What do you see in this photograph?
If you only see a river, cottages, the outskirts of forests and mushroom glades, then look closer.
Over there, riiiight over there, right in the centre of the photograph, you'll see the perfect explanation as to why this political regime of "toads-on-a-pipe" [a derogatory reference to the Russian government] so vehemently refuses to ratify
Article 20 of the UN Convention Against Corruption
and
so painfully reacts to attempts to introduce into the Criminal Code the article on "illegal enrichment".
If these measures were realised, then this photograph would have brought big problems to some people in the Kremlin and the United Russia Party.
I'll explain things in more detail and I'm sure that you'll like this story.
(
Collapse
)
During the course of this investigation, the Foundation for Fighting Corruption established that:
1. Highly-ranked civil servant Volodin violated existing anticorruption legislation and submitted a false declaration of property in which he did not declare the better part of the plot of land on which his estate is situated. We demand an official investigation and the removal of Volodin from public service.
Here is
our official letter on the subject.
2. United Russia Party deputies Neverov and Rudensky, and former deputy Ashlapov violated anticorruption legislation and provided false information regarding their property in their declarations. We demand official recognition of this fact and the expulsion of these swindlers from the State Duma. We await, from "United Russia", the exclusion of these people from the party.
3. We accuse deputies Neverov, Rudensky and former deputy Ashlapov, of receiving bribes from entrepreneur Shustenko and demand a criminal investigation. (
Link to the accusation sent to the Head of the Investigative Committee of the Russian Federation
).
4. We believe that the property in the possession of civil servant Prikhodko is not even closely comparable to his income, and demand that he explain the source of his funds.
The part about cooperation and nation-wide collaboration
We would really appreciate if you could help us disseminate this information. You know, the citizens of the Russian Federation would probably be very interested in looking at the cottages of the "servants of the people" and asking, alongside us, "what money these cottages where built with"
We made this wonderful site:
http://dacha.fbk.info/
It would be really cool if you could broadcast this link
http://dacha.fbk.info/
where ever you can.
It would be particularly good if you could share this link with all sorts of non-political blogs and groups. This sort of information is of interest to everyone.
If you have an account on the social network "Odnoklassniki", then please post it there (or ask your parents to), and ask everyone to broadcast the link.
"Odnoklassniki" is a social network that a ton of people over 50 are on, who use the Internet, but don't read all these Live Journal and Facebook pages.
Well, and it goes without saying, Twitter, VK, FB - that's about all.
There's no link that won't be of use. Each link, retweet and posting is the prod of a sharp stick into the filthy toad.
LiveJournal now allows you to embed posts in tweets, and not just the pictures. If you click on "retweet" right now, then good stuff!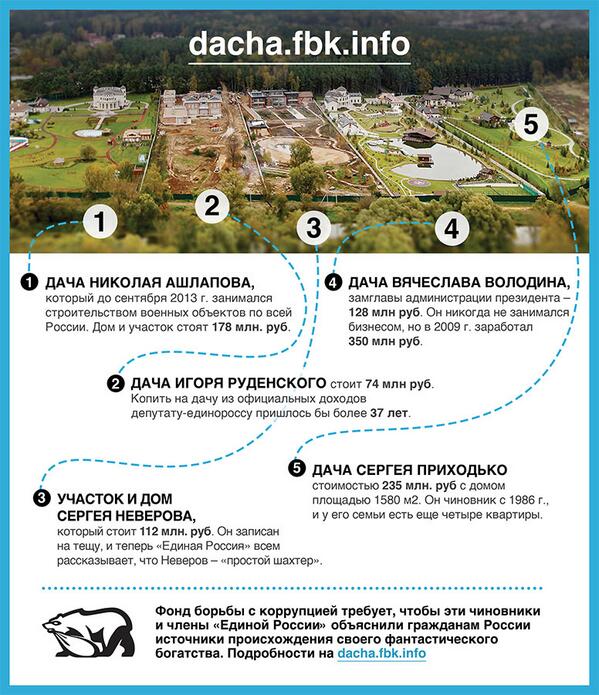 http://dacha.fbk.info/#ashlapov
We've made an
internet poste
r that you can all put up on your wall. Please do.
As usual, for those who are most active, we've made a
poster for offline distribution
. Hang it up in your lobby in order to spark hatred and discontent against the "
Arrogant United Russia Party Member Swindlers Who Stole Money and Built Palaces
" social group.
Journalists and members of the media, we understand that not everyone is allowed to publish such information, but it would be great if you could at least try.
Thanks in advance to everyone who has taken a sharp stick in hand.
http://dacha.fbk.info/
Well and of course, a huge thanks to the members of the Foundation for Fighting Corruption that have worked on this investigation, in particular: the Furious George
@
alburov
(he's terribly cool) and the heroic paraglider
@
BlackKarlsson
.
If you like what the Foundation for Fighting Corruption is doing, you can
support us – the Foundation supports itself on the donations of citizens of the Russian Federation.
Originally posted by
navalny
on
2013-11-27 13:46:00