A rather curious interview with Vasily Yakimenko (http://en.wikipedia.org/wiki/Nashi_(youth_movement) on Lenta.ru



Lots of things there, but as usual, the most interesting thing is about money:

Q: "Vedimosti" newspaper published information that of the 400M budget (of the Rosmolodej – Russian Youth Movement, of which Yakimenko is the head) roughly half of it went to Nashi and its affiliates.

V. Y.: I never opposed the fact that the fund-winning organisation would be close to the Nashi movement. My advisors argued that it would be perceived badly, but I don't really care how it is perceived. Nashi has unique competence in driving technologically and logistically complex projects like Seliger (http://www.interseliger.com/). And if Nashi charge less for that, and it is entirely legal, and they win the tender, then thank God.

Q: Isn't that special treatment then?

V. Y.: Certainly, there is a special treatment for Nashi – a good part of the Rosmolodej projects originate there. I prioritised the support of the talented youth, and Nashi appeared to be the most ready to realise these projects.

Q: Do you really believe that Seliger attracts the most talented of the Russian youth?

V. Y.: Yes, that's clear.

Two hundred million taxpayers roubles consumed by Nashi in 2010 alone. Quite a charmed life.

For the first year of its existence, RosPil spent 3.07 million out of total 8.6 million roubles donated. Not a single rouble from taxpayers, everything was strictly donated. On the contrary, out of a total of 3.07M spent, about 1M will be returned in the form of various taxes.

OK, we probably can't compare the big, shiny, meaningful Nashi movement with little RosPil.

Instead, let's compare RosPil with Nashi's heavily publicised anti-corruption project and the whole Kremlin gang – "The White Aprons" movement.

Remember those? You should do.

As there were massive rallies, with people specifically brought in from far outside of Moscow.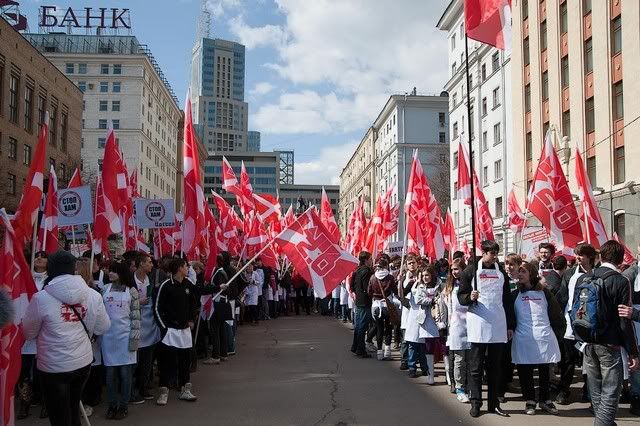 There was a wonderful wall calendar.



There were TV news features: "Today more than 50 thousand Nashi activists dressed in white aprons took to the streets to campaign against corruption".

http://www.vesti.ru/videos?vid=331903

In summary, everything was shiny, expensive and promising.

Well, what did we get from the 'most talented youth of Russia' in return for our taxpayers' millions?

Let's go straight to the 'The White Aprons' movement' website (http://белыефартуки.рф/)

Oops, it doesn't work.

Luckily,
alburov already checked it last October and we can read his report here: http://alburov.livejournal.com/46391.html. At that time they hadn't yet stolen the money to pay their hosting bills, so the website was at least reachable. Though there weren't any practical results of their activities reported then.

The only 'report' we find:

Strangely enough, Yandex-news (http://news.yandex.ru/export.html) does not display any news items about corruption trials using 'white aprons' as a search key. Even though I personally gave them a tip about the Forbes Russian billionaires list (http://navalny.livejournal.com/577905.html). One of their prime ideas was to make thousands of videos denouncing all sorts of corrupt officials. But you can't find these videos anywhere on youtube.

I have to conclude that the only result of Nashi's fight against corruption is the disappearance of a large amount of taxpayers' roubles; millions - belonging to us.

On a personal note - their fight against corruption results in a constant flow of google-alerts from anonymous posters (even on LiveJournal they are posted as 'promo') about the evil and poorly efficient RosPil, and 'how Navalny has stolen all the money'.

I haven't noticed any other regular and systematic Nashi activity.

I realise I'm being naïve, though I would still like a point clarified by Vasily Yakemenko and Nashi:
Dudes, seriously, where did you spend the money? And maybe you might consider giving it back to where it belongs, and remember that you were supposed to spend it fighting corruption?


Translated by Alexander Dmitriev

Originally posted by
navalny on January 17th, 17:28